post
Learning Camps as Unique as Your Child!
Feb 16, 2018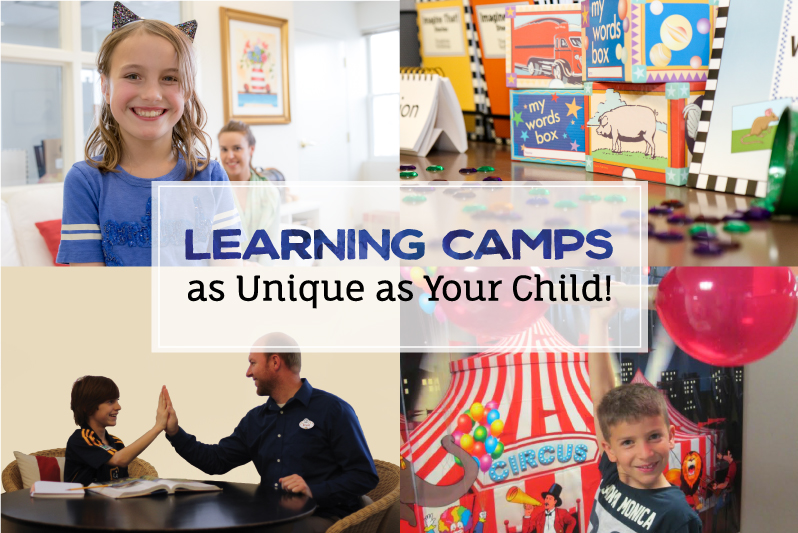 Summer learning at Lindamood-Bell is individualized to meet the learning needs of each student in a short amount of time. Because it's one-to-one, we'll only spend time on what your child needs.
We'll start with a learning evaluation to uncover the strengths and weaknesses that affect academic performance. In a results consultation, we will recommend a summer learning plan that will make a difference for your child.
What could your child learn this summer? Read on for typical areas of focus.
Reading Help
Strong readers recognize common words and can sound out unfamiliar words easily. This makes reading at grade level or above easy, and not a chore.
Students who are currently struggling can learn to read to their potential this summer.  We identify why reading is hard for each student and spend a few weeks developing the skills they need to become a better reader. Learn about our approach.
Early Learning
If your child is still learning to read, a few weeks at our Learning Camp can make a big difference. Emerging readers can work on the basics that will make the transition to kindergarten or first grade a breeze. We strengthen the imagery-language foundation for reading, spelling, and comprehension. Learn about how we help young learners here.
Comprehension Help
Do words "go in one ear and out the other" for your child? This is more common than you'd think. Weak concept imagery—the ability to image a gestalt (whole)—may be the cause. Weakness in concept imagery interferes with reading and listening comprehension, memory, oral vocabulary, critical thinking, and writing.
There are individual differences in the ability to visualize language—a key to good comprehension skills. We will teach your child how to "see movies when they read," so they will get the big picture. Improving this skill will make many aspects of school easier. Learn more about how we develop comprehension here.
Math Help
Does your child "hate" math? People who are great at math can image and verbalize math concepts. The language of numbers turns into imagery and they "see" mathematical relationships. We can teach your child how to think with numbers. Learn how we solve math "problems" here. Individuals of all ages can learn to do and enjoy math!  
Academic Prep
Academic Prep is an enrichment program for students ready to advance in areas like writing, study skills, organization, and test taking. Students benefit from our expertise in learning and cognition. One-to-one programs are tailor-made to address the academic needs of your child—and get them excited about the coming school year!

How long is a summer program?
Instruction is based on individual learning needs. Programs are typically 4-6 weeks.
Which program should we do?
A learning evaluation will uncover the strengths and weaknesses that may be affecting performance in reading, comprehension, and math. In a results consultation, we will recommend an individualized instruction plan that will change your child's learning.
We already tested and know my child needs Visualizing and Verbalizing/Seeing Stars/On Cloud Nine, etc. Can we get it at a Lindamood-Bell Learning Camp?
Absolutely! For decades, students have spent part of their summer learning with us. We bring Learning Camps to areas where we don't have a year-round Lindamood-Bell Learning Center. Our Learning Camps provide genuine one-to-one Lindamood-Bell Learning Center instruction.
Is this for kids with learning disabilities?
Some students come to us with a previous diagnosis such as dyslexia, autism spectrum disorder, or a general learning challenge—and we make a difference for each of them. Some students seek our help to enhance their skills or to just make learning easier—and we do.
What about planned vacations?
Let's talk! We can either work a break into your summer program or conduct sessions online without interrupting your child's learning momentum.
Will it be fun?
Definitely! Our staff is highly skilled to make learning changes in a short period of time. A big part of how we do that is through our positive, energetic, enthusiastic interactions with students of all ages. You will be amazed at how much your child loves learning this summer!

To get you started, we are pleased to offer our Learning Ability Evaluation at a special rate of $295 (regularly $875). Contact us to schedule your child, 800-300-1818.
Find your nearest location – Find My Location.