post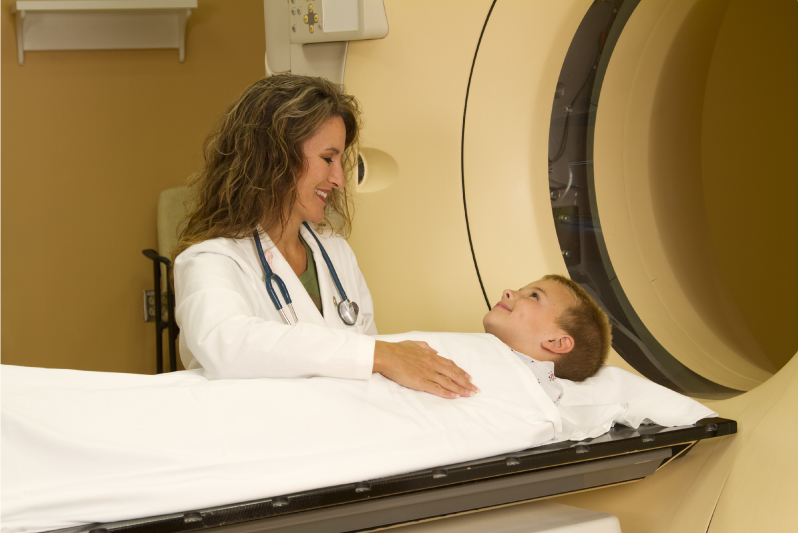 "We are committed to the ongoing analysis of our program efficacy and have the research to prove it." 
-Nanci Bell, co-founder
Lindamood-Bell has been involved with research for over 30 years. We actively take part in peer-reviewed studies of our programs and instruction and monitor student results at our learning centers and school partnerships to ensure we maintain our exceptional standard of quality.  We have partnered with such institutions as Georgetown University, MIT, and Wake Forest University to conduct neurological and behavioral research.
The research consistently proves that Lindamood-Bell instruction changes the brain functions underlying language and literacy skills. These brain functions continue to improve after our instruction has ended.
We believe all individuals can be taught to read to their potential—including those who have a previous diagnosis of dyslexia. Numerous studies examining the effectiveness of our instruction with dyslexic students have been conducted;  we have summarized and included links to several, below.
Visit our Research & Development site for more information, studies, and references.
Summary of Behavioral & Neurological Research—Dyslexia
Gray Matter Volume Changes Following Reading Intervention in Dyslexic Children
Researchers at Wake Forest University and the Child Study Center at Georgetown University published conclusions about the effects of Lindamood-Bell instruction on the brain activity and reading ability of dyslexic students. This research noted significant improvements in reading associated with gray matter volume increases following Seeing Stars instruction with dyslexic students—and the neurological changes held or increased after the intervention. View the results and download the study here.
Neural Changes Following Remediation in Adult Developmental Dyslexia
In this study, a group of adult dyslexics received eight weeks of Lindamood-Bell instruction. Before and after instruction, subjects were administered basic reading skills assessments and functional magnetic resonance imaging (fMRI). A similar group of adult dyslexics went through the same procedures but did not receive Lindamood-Bell instruction. Lindamood-Bell subjects received an average of 112 hours of Lindamood-Bell instruction to develop reading skills. Assessments and fMRIs were administered by independent researchers. View the results and download the study here.
Study Uses fMRI to Show Positive Effects of Seeing Stars Instruction
Massachusetts Institute of Technology (MIT) researchers conducted a fMRI study of the effect of Seeing Stars instruction on beginning readers at-risk for reading difficulties. The students (and a matched control group) received fMRI scans to measure brain activity before and after instruction; they were also administered tests of reading ability. After 6 weeks of instruction, the Seeing Stars students outperformed the control group. The findings were published in the Journal of Learning Disabilities. Click here to view the research.
Deficits Associated with Dyslexia Become Normal Following Intensive Intervention
Researchers at the Department of Neurosurgery, University of Texas, Houston Health Science Center, conducted a neurological study measuring changes in the brains of dyslexic students upon successful completion of intensive intervention using Lindamood-Bell programs. Their findings suggested that the "deficit in functional brain organization underlying dyslexia" can become normal when altered by intensive intervention. Read more and access the full article here.
Discovering How Reading Intervention Changes the Brains of Children With Dyslexia
Exciting new research, titled "Rapid and widespread white matter plasticity during an intensive reading intervention", has been published this month in the journal Nature.
The study, from the Institute for Learning and Brain Sciences, University of Washington (UW), examined growth in reading skills and white matter in school-aged, struggling readers. Diffusion MRI data collected during 8 weeks of Lindamood-Bell intensive instruction indicates that there were large-scale changes in white matter along with growth in reading skills. In addition, the study identifies white matter tracts that may predict the ease with which a child learns how to read.
Dr. Jason Yeatman, one of the study's researchers (who previously presented to Lindamood-Bell star cast about the study) says that although dyslexia is often thought of as permanent, the findings indicate that the targeted, intensive instruction leads to "substantial" improvements in reading skills and changes in the "underlying wiring of the brain's reading circuitry." Read more and access the full article here.
Learning Center Results—Students With Dyslexia
As part of our effort to maintain an exceptional standard of quality, we continually monitor student learning results. At Lindamood-Bell Learning Centers, students receive individualized instruction, using one or more of our research-validated programs. The Seeing Stars program develops skills needed for phonological processing and orthographic processing in reading and spelling.  Seeing Stars instruction can address the needs of students who have been previously diagnosed with dyslexia.
The following shows reading performance, pre- and post-instruction, of all students who self-reported as having a diagnosis of dyslexia.
Students With Dyslexia Who Received Decoding Instruction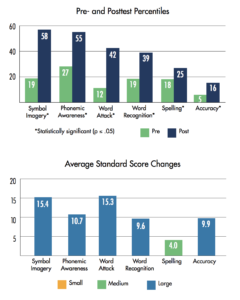 Years: 2008-2017
Number of Students: 1,676
Average Age: 10
Average Hours of Instruction:  113
Lindamood-Bell Instruction Implemented: Seeing Stars
On average, students with Dyslexia who received Seeing Stars instruction achieved significant improvements in reading. They made large (significant) standard score changes on nearly all measures. The 30-point percentile increase in word attack put these students well within the normal range (25th–75th percentile). The large average standard score change in word recognition should be noted, as students now performed within the normal range on this measure as well. Their pre- to posttest results were statistically significant on all measures.
Getting Help
Over the course of 30 years, Lindamood-Bell has worked with thousands of individuals. Sitting with a child or an adult who struggles to read a word provides unique insight into the learning process. Our success with students is due to our unique approach—we accurately assess individual needs and provide research-validated, sensory-cognitive instruction in a safe, positive, environment. Find your learning center here.