post
Real Hope for Children Diagnosed with Dyslexia
May 26, 2023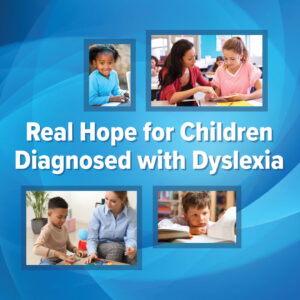 Parents of children who struggle with learning often find it difficult to get adequate help. Even if a specific learning difficulty is identified, the focus of support may be on accommodations rather than solutions.
At Lindamood-Bell, we believe all individuals can be taught to read and comprehend to their potential—including those diagnosed with dyslexia. As our co-founder, Nanci Bell has often stated and our experience with our students shows us, a learning difficulty such as dyslexia does not need to be a lifelong condition.
Discovering How Reading Intervention Changes the Brains of Children with Dyslexia
Recent research titled "Rapid and widespread white matter plasticity during an intensive reading intervention" was published in the journal Nature. The study, from the Institute for Learning and Brain Sciences, University of Washington (UW), examined growth in reading skills and white matter in school-aged, struggling readers. Diffusion MRI data collected during eight weeks of Lindamood-Bell intensive instruction indicates that there were large-scale changes in white matter along with growth in reading skills. In addition, the study identifies white matter tracts that may predict the ease with which a child learns how to read. 
Dr. Jason Yeatman, one of the study's researchers, says that although dyslexia is often thought of as permanent, the findings indicate that the targeted, intensive instruction leads to "substantial" improvements in reading skills and changes in the "underlying wiring of the brain's reading circuitry." Read more and access the full article here.
Find more independent research studies and references here. 
Lindamood-Bell® Learning Center Results—Students with Dyslexia
As part of our effort to maintain an exceptional standard of quality, we continually monitor student learning results. At Lindamood-Bell Learning Centers, students receive individualized instruction using one or more of our evidence-based programs. The Seeing Stars® program develops skills needed for phonological processing and orthographic processing in reading and spelling.  Seeing Stars instruction can address the needs of students previously diagnosed with dyslexia.
The following shows reading performance, pre- and post-instruction, of all students who self-reported as having a diagnosis of dyslexia.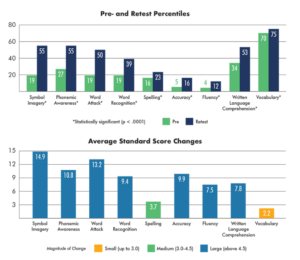 Years: Jan. 2008 – Sept. 2021
Number of Students: 2,483
Average Age: 10.2
Average Hours of Instruction:  121.6
Lindamood-Bell Instruction Implemented: Seeing Stars
On average, students with a prior dyslexia diagnosis who received Seeing Stars instruction achieved significant improvements in reading. They made large (statistically significant) standard score changes on seven of nine measures. (Vocabulary was not a targeted measure of instruction.) The 20-point percentile increase in Word Recognition put these students well within the normal range (25th–75th percentile). The large average standard score change in Paragraph Reading Accuracy should also be noted.
Find additional Learning Center data, including growth made by students with ADHD, Specific Learning Disabilities, and Autism here.
Getting Help
For 30 years, Lindamood-Bell has worked with thousands of individuals. Our success with students is due to our unique approach—we accurately assess individual needs and provide evidence-based, sensory-cognitive instruction in a safe, positive environment. 
Watch a mother with a family history of dyslexia describes her five-year-old's experience with intensive intervention at a Lindamood-Bell Learning Center. 
Students struggling with reading, comprehension, or math can catch up before school starts. In just a few weeks, our Learning Center can help make your child feel more confident and prepared for school. 
Hurry to save your child's spot on our popular summer schedule. Receive a 10% discount off the first week of instruction when you enroll by June 30, 2023, and for a minimum of 80 hours. All instruction must be completed by August 25, 2023. Find your learning center here.