post
Solutions for Dyslexia | Spotlight on Fort Smith Public Schools
Aug 12, 2018

Background
Fort Smith Public School District in Arkansas is one of the many communities around the country trying to make the new state dyslexia laws work for students and teachers. In Arkansas, the law requires schools across the state to screen all students in kindergarten through second grade for signs of dyslexia.
In 2017, school leaders began a partnership with Lindamood-Bell to address the needs of dyslexic students and provide a solid foundation for all early learners. The partnership has been cost-effective for the schools and life-changing for students.
Professional Development
Over 300 teachers, including all K-2 classroom teachers, special education teachers, and reading interventionists, attended workshops to learn the steps of Visualizing and Verbalizing for Language Comprehension and Thinking, and Seeing Stars for Reading and Spelling.  The programs, written by Lindamood-Bell co-founder, Nanci Bell,  address the imagery-language foundation that underlies reading, spelling, language comprehension, memory, and critical thinking.
After the workshops, teachers continued learning throughout the year through job-embedded professional development. Support was provided in a cost-effective manner, via state-of-the-art telepresence coaching.
---
Learn about Lindamood-Bell robot coaching:
---
Results | Students with Dyslexia
Tier 3 intensive intervention focused on the needs of students previously diagnosed with dyslexia. 131 students received an average of 63.5 hours of Seeing Stars instruction to develop symbol imagery for reading.
Intensive Intervention Results
Students with Dyslexia

Summary
Number of Students: 131
Average Hours of Instruction: 63.5
Average Age: 9.5 years
Program Implemented:
Professional Development:
Outcome Measures:
Woodcock Reading Mastery Test-2
Wide Range Achievement Test-4
Gray Oral Reading Tests-4
On average, students made significant improvements in reading. They made large standard score changes on all measures. The 10-point percentile increase in word recognition and the 12-point increase in word attack put these students closer to the normal range (25th-75th percentile).  The results illustrate that instruction in the Seeing Stars program leads to improved reading for children with reading difficulties including dyslexia.
Results | Classroom Instruction
K-2 classroom implementation addressed a district  goal of preventing literacy deficits in the first place. Throughout the 2017-18 school year, K-2 classroom teachers supplemented the core Language Arts curriculum with daily Seeing Stars instruction. Seeing Stars develops symbol imagery for phonological and orthographic processing in reading and spelling.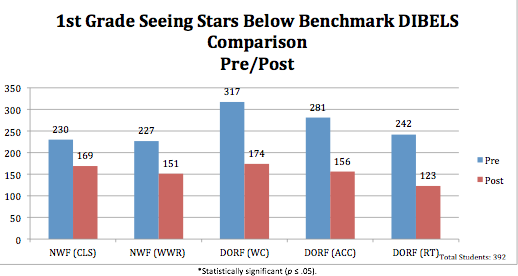 The district uses DIBELS to monitor early literacy skills. A comparison of DIBELS results at the beginning and end of the school year shows significant changes. In all areas of reading, far fewer first grade students scored Below Benchmark at the end of the school year.
Learn More
Schools partner with Lindamood-Bell for our expertise in research-validated programs that work within a Response to Intervention (RtI) framework and are aligned with state standards, including Common Core. We are uniquely prepared to help schools meet the the needs of students with dyslexia.  
Explore our professional development workshops and contact us with any questions or to discuss how your school can get started: 800-233-1819.