post
Making a Difference for Students in Jamaica | Lindamood-Bell for Schools
Jun 7, 2017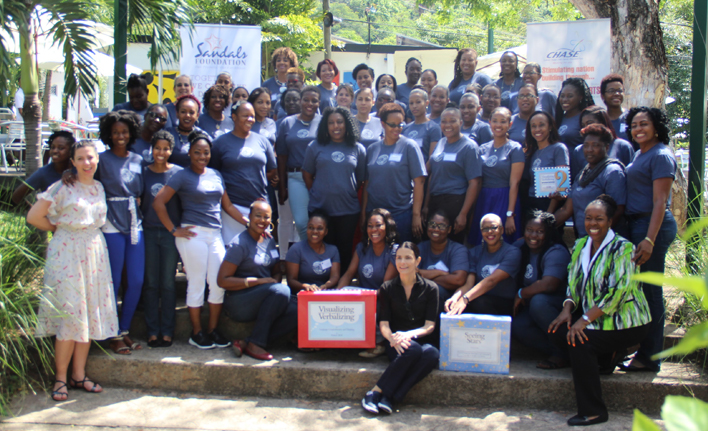 This month, teachers in Jamaica were introduced to Lindamood-Bell's Visualizing and Verbalizing (V/V) and Seeing Stars programs. This professional development opportunity was facilitated by the Sandals Foundation ('the Sandals Foundation') and funded by the CHASE (Culture, Health, Arts, Sports, and Education) Fund in an effort to increase literacy and math competency for Jamaican students with special learning needs.
The focus of the Sandals Foundation is ensuring that as many children, youth, and adults as possible have the educational opportunities they need to reach their full potential. Programs include community scholarships, supported schools, book drives, and literacy programs, as well as support of new libraries and computer facilities. Each year, the Sandals Foundation supports thousands of students in educational facilities throughout the Caribbean community.
The introduction of the V/V and Seeing Stars programs was the brainchild of Mandy Melville, the parent of a child with dyslexia. "I used to have to take him away during the holidays to do this type of lesson at (Lindamood-Bell) Centers in Miami, so every year we'd go away. One of the things that hit me was when he said to me, 'Mummy, why am I the only child that has to go away for extra lessons?'" At that point, Melville was determined to bring the programs to Jamaica where more children could benefit.
Through the Jamaican Ministry of Education, 50 teachers were selected out of hundreds of applicants to attend the four-day workshop. Educator Shakera Roberts, one of the workshop participants, commented that "being trained in (these programs) will greatly assist me and my fellow Jamaican teachers to be more equipped with effective methodologies to facilitate students with special needs to learn to their full potential."
Read More about this exciting project.
Lindamood-Bell's research-validated programs address the imagery-language connection that is a silent partner to cognition and literacy—often the missing piece for students.
Reading and Spelling Programs
Symbol Imagery for Phonological and Orthographic Processing in Reading and Spelling
Lindamood Phoneme Sequencing(LiPS)
Phonemic Awareness for Reading, Spelling, and Speech
Comprehension Programs
Visualizing and Verbalizing(VV)
Concept Imagery for Language Comprehension, Thinking, and Memory
Foundational Development in Concept Imagery, Oral Language Comprehension, and Expression
Our unique programs can help diverse groups of students learn to read and comprehend to their potential, including students with minor to severe learning challenges and English Language Learners. Schools and organizations partner with us for our expertise in addressing the learning needs of students. While the needs of our educator clients vary, we can apply our best practices to big literacy challenges.
Find an upcoming event for your teachers or contact us to discuss the learning needs of your community.  We can customize an event that meets your unique needs.
800-233-1819
805-541-3836