post
Jamaican students with special learning needs get an extra boost this summer!
Jul 18, 2017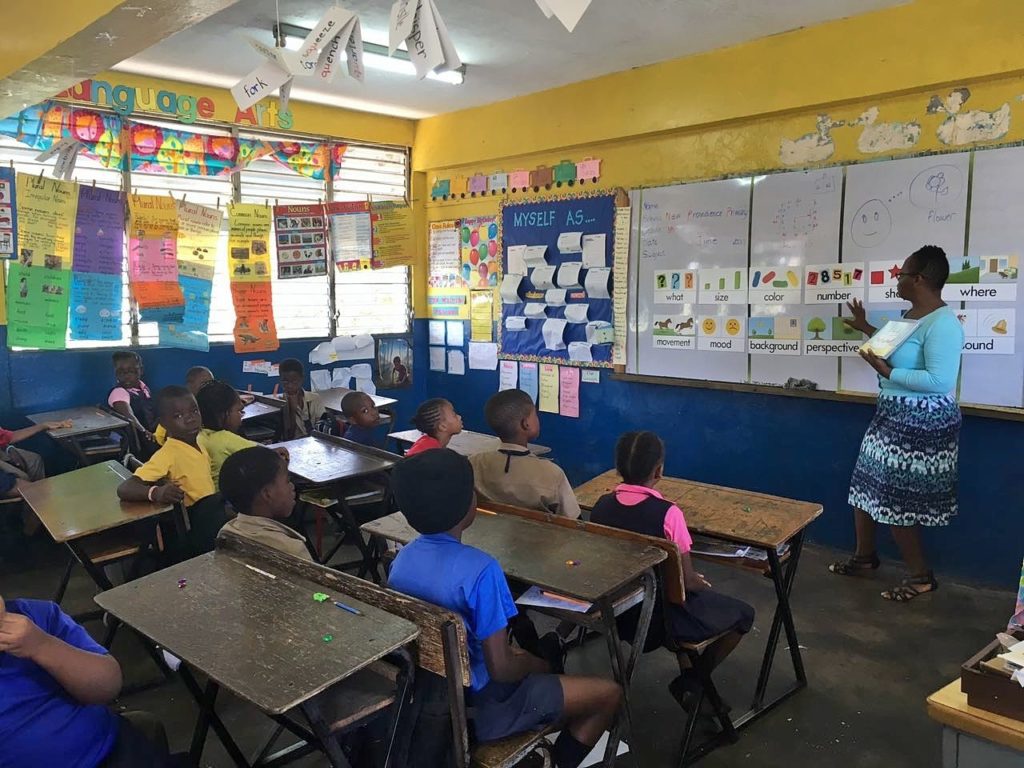 Teacher helps students connect imagery and language with the Visualizing and Verbalizing Program.
A group of dedicated teachers in Jamaica is taking a deep dive into language and literacy instruction this summer. They are building on what they learned at introductory teacher workshops for developing reading and comprehension this past spring. At an onsite summer reading clinic for students with special learning needs, teachers are practicing the steps of the Seeing Stars (for Reading and Spelling) and Visualizing and Verbalizing (for Language Comprehension and Thinking) programs.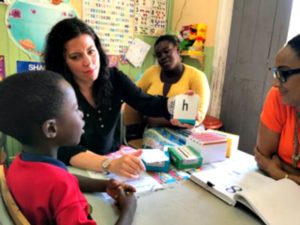 Lindamood-Bell Instructional Coach, Mary MacDonald, demonstrates a step of the Seeing Stars reading program.
But it's not just practice, the summer reading clinic provides teachers an opportunity to get job-embedded professional development as they learn the Lindamood-Bell approach to intervention. Lindamood-Bell instructional coaches are preparing teachers to be as effective as possible by demonstrating steps of the programs and coaching teachers throughout the day. Teachers are honing their ability to differentiate instruction, learning how to perform the steps of the program with fidelity and how to write effective lesson plans. And students are learning to read and comprehend to their potential!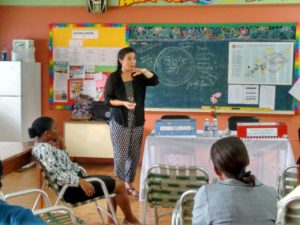 After attending introductory workshops, teachers are now engaged in advanced topics like how to differentiate instruction.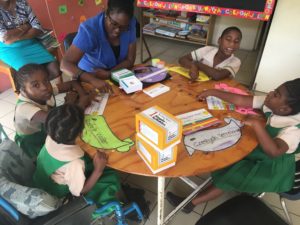 Teacher has students "write" letters on the table with their fingers, a beginning step of the Seeing Stars Reading program. Symbol imagery, the ability to image the letters within words, is key to orthography, phoneme awareness, reading, spelling, and fluency.
The effort was initiated by a parent, Mandy Summerbell Melville, who had experienced the positive results of Lindamood-Bell programs with her own children. The community effort has been facilitated by the Sandals Foundation and funded by the CHASE (Culture, Health, Arts, Sports, and Education) Fund. The focus of the Sandals Foundation is ensuring that as many children, youth, and adults as possible have the educational opportunities they need to reach their full potential. Programs include community scholarships, supported schools, book drives, and literacy programs, as well as support of new libraries and computer facilities. Each year, the Sandals Foundation supports thousands of students in educational facilities throughout the Caribbean community.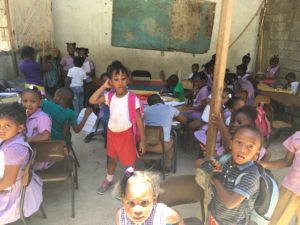 "I have been told multiple times that students who frequently missed school are now turning up early every day, full of excitement, and eagerly awaiting instruction." Mary MacDonald, Professional Development Consultant
Read More about this exciting partnership.
Lindamood-Bell's research-validated programs address the imagery-language connection that is a silent partner to cognition and literacy—often the missing piece for students.
Our unique programs can help diverse groups of students learn to read and comprehend to their potential, including students with minor to severe learning challenges and English Language Learners. Schools and organizations partner with us for our expertise in addressing the learning needs of students. While the needs of our educator clients vary, we can apply our best practices to big literacy challenges.
Find an upcoming event for your teachers or contact us to discuss the learning needs of your community. We can customize an event or partnership that meets your unique needs.
800-233-1819
805-541-3836