post
Tips for Parents | Help Make Summer Reading Fun
Nov 8, 2019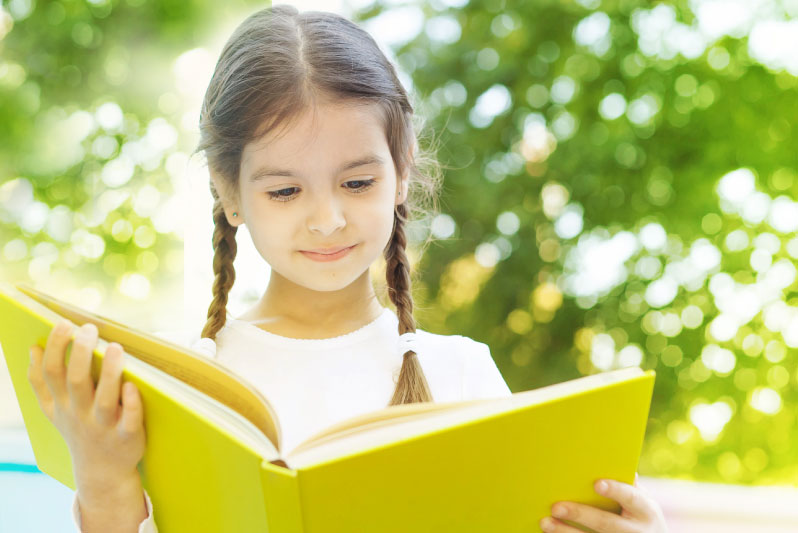 During the school year, reading is built into a child's day. Students are reading from the board, assignment sheets, and books at school, and during homework time. Parents may feel challenged when trying to squeeze reading into the summer schedule. No matter where your summer adventures take your family, it's important to include regular reading along the way. We've rounded up some tips to get you started.
Find New Opportunities
For many families, summertime is an opportunity to spend more time together. Weaving in reading can be simple to do. Instead of evenings slugging through homework, you may be cooking together or playing games. Have your child be the one to find and read recipes. Your child may be ready to read the game instructions to the family. While on vacation, take turns reading about the next stop on your adventure.
Explore Their Interests —  via Books!
Thanks to your local library and websites like Amazon and Scholastic, there are more books  available than ever. Tap into your son or daughter's interests when searching for new options. Animals, baseball, Star Wars, My Little Pony – make reading more fun by providing your child with a high-interest topic. Connect a field trip to the aquarium with a book about sharks, or find a book about the Gold Coast before heading to Dreamworld.
Go Beyond the Book
With time on your side, you have the freedom to help your child explore new media sources. Magazines are an excellent source of special-interest material. Many local libraries have vast selections of graphic novels for children and teens. Check out the local comic bookstore for titles that may get young readers hooked on reading for years to come.
Create a Positive Environment
Establish a time for quiet reading in your household as something to look forward to and enjoy! If your summer reader observes you reading, he or she is less likely to see reading as a chore or something negative. Stepping away from TV time or iPad games as a family eliminates distractions and can allow your child to view reading as something enjoyable.
At home, it may be helpful to create some cozy spaces that are conducive to reading. If your family has hit the road for a summer trip, scheduled reading time in the evening can be a great wind-down activity for everyone.
Check in with your children about the books they're reading to monitor for understanding. Ask, "What did you picture for what happened in that story?", "What do you think might happen next?", or "How would you change the ending of the story?"
Special Tips for Young Readers
Start by reading aloud while guiding your child to follow along with a finger. Have your child start to sound out some of the words. Increase the child's share of the reading as skills grow. Choose a few common words from the reading to put on 3 x 5 cards for practice. It is important for a new reader to start to recognize sight words like "the" and "ball" rather than trying to sound them out every time.
Spend reading time focusing on comprehension, too. Try reading a page without showing your child the pictures. Ask your child what they are imagining for a character or action.
Try Audiobooks and Read Alouds
Allow your child to be exposed to text in different ways: have a read aloud or listen to an audiobook. Hearing a fun, exciting story may motivate your child to seek out a book on his or her own. After you read or listen to a story, you can gauge your student's comprehension by asking some imagery questions. Things like, "How did you see that happening?" or "What do you picture happening next?" can begin a fun discussion of the story and allow you to see what your child is getting out of it.
Help for Reluctant Readers
No matter how many fun books your child is exposed to, reading may continue to be a source of tension if your child has a weakness that affects the ability to read. Having to sound out the same word every time it appears, slow reading, and difficulty differentiating the letters and sounds within words are all signs of a reading weakness. These challenges may be tied to your child's symbol imagery, which is the ability to create mental imagery for sounds and letters. Having symbol imagery that's intact is essential for being able to decode new words, maintain sight words, and become an independent, fluent reader. Learn more about reading difficulty and solutions here.
What's more, being a fluent reader doesn't guarantee strong reading comprehension. Your child has to "see movies" while reading, to allow comprehension to happen. Concept imagery is the ability to create an imagined gestalt — or whole — from language. Learn about the imagery-language connection for reading comprehension here.
Dedicate Time to Improving Reading
We hope you are ready to include reading in your summer plans! For many students, two months away from academics can lead to measurable learning loss in skills like reading and math—which, of course, is not what any family wants to be faced with at the start of the upcoming school year.
Need more help? Your child can spend part of the summer at one of our learning centers, to turn what could have been a learning loss into a learning gain. Some students come to us with a previous diagnosis or a learning challenge. Some need for learning to be easier, while some use summertime learning to get ahead for the next year. We start by identifying strengths and weaknesses that may be affecting performance in reading, comprehension, and math.  And, we make recommendations for individualized instruction plans that create learning gains. Students go back to school with more confidence.
Contact us to learn more and get started at a learning center near you.