post
Our New Website Includes Features You'll Love
Jun 17, 2015
Welcome to the New LindamoodBell.com!
We've redesigned our website!  New features and simplified navigation make it easy to discover why we believe that all individuals can learn to their potential.  This new site reflects the story of our organization, our commitment to research, and our passion for teaching reading and comprehension.  So, click and learn.
Watch to find out why we are so excited:
Tabs You'll Want to Explore:
Research and Learning Center Results

There are a couple additions to our research page to check out. First, our catalog of peer-reviewed research articles is more complete than ever before. Search under the topic you're looking for, and reference the source journal easily. Second, the results from our learning centers now includes 7 years of student data. Read about our learning centers in general, and our decoding, comprehension, and math students. Or, find out about students with a prior diagnosis who came for instruction.
Click here for our Research page: Research
Real Stories  

We live for helping our students and hearing the wonderful stories about their successes. Visit the Real Stories page to see videos of our students, parents, and teachers. You'll get a sense for the wide range of individuals we work with, and maybe begin to understand why we feel so lucky to do the work we do.
Click here for our Real Stories page: Real Stories
Blog

We're very excited about this new addition to the website. Our blog posts will include a wide variety of topics, from tips and information for parents, to education and research news.
Click here to see our Blog page: Lindamood-Bell Blog
For Schools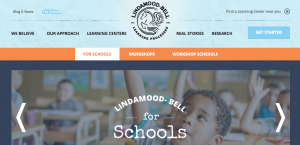 For educators, the For Schools page provides the information they need to help students learn critical literacy skills. Find the details you're looking for about our workshops and register online for these events. Or, look into our Learning Center on Campus and find out how Lindamood-Bell can help with intervention needs.
Click here to see our For Schools page: For Schools