post
Is Reading a Challenge? This Can Really Help.
Sep 23, 2015
Some students can understand easily when someone else is reading or while listening to books on tape. But when they read themselves, they complain that it's boring, or that it takes too long, often leading to high levels of frustration and angst for both parents and students.
Students who have a hard time with reading often have a weakness in their ability to hold on to patterns of letters in their mind's eye. For example, they may read "answer" as "an-swer" instead of "anser" or "knife" as "k-nife" instead of "nife." This can occur when a student has weakness in symbol imagery – the ability to visually image the letters in words. Here's an excerpt from Nanci Bell's book, Seeing Stars, to help you further understand symbol imagery's role in the reading process:
Sitting in the living room in front of the fire, school work piled around me. I heard my mother coming into the hall, then heading for the stairs. Now was a good time to ask her; then I wouldn't have to look it up in the dictionary. She can spell anything.
"Mom, how do you spell "tomorrow?"
Her footsteps never missed a beat, she rattled off some sort of rapid, foreign speech, "TEEOHEMOHDOUBLEAUROHDOUBLEYOU."
Eyes blinking and searching the universe for some sense, I said, "WHAT?"
As she crested the top of the stairs, Martian speech came at me again, "TEEOHEMOHDOUBLEAUROHDOUBLEYOU."
Panicking, I yelled, "Wait Mom, I can't get that. What did you say? T what?"
Footsteps came to a stop. I could picture her red hair and pretty-but-determined face as she turned toward me. "Listen Nanci. Pay attention."
Why did I have to ask? Then in somewhat slower speech, I heard a careful, slightly impatient, "TEE-OH-EM-OH-DOUBLEAUR-OH-DOUBLEYOU."
The haze starting to clear, images started to form, the Martian speech suddenly converted to my language. Oh, she meant T-O-M-O, but what was that letter coming after O? What is a DOUBLEAUR? Is it like a W? Then, I got it. Perception occurred. The haze was gone. Lucidity at last! She was saying a double R! Two R's! Then an O. Then a W. T-O-M-O-R-R-O-W. I saw it.
Quickly I wrote it down before I lost it. Regaining my intellectual status with my mother suddenly became very important. "T-O-M-O-R-R-O-W. Thanks Mom, I have it."
Unfortunately her footsteps didn't become fainter, instead they started coming back down stairs. Uh-oh. In the hall, now the living room. Head down, Nanci. Keep your head down.
She was standing over me. "Nanci, how are you doing in spelling?"
Quick response, Nanci. Be confident. Fourth grade is easy. Show no fear or the lecture will start again. Why did I have to ask her for help? What was I thinking? "Fine Mom. I get A's all the time. Hundreds. Every test. It's easy for me."
Too late, here it came. "Well, if they'd go back to teaching phonics in school, and doing spelling bees, kids wouldn't have problems learning to read and spell. When I was in school, we had to learn the sounds for the letters, and that helped us sound out words, but we also did spelling bees. That's why I can spell so well. Kids didn't have problems learning to read and spell like they do now. Why don't you have to do spelling bees anymore?"
"Uh, I don't know Mom." Head down. Keep your head down.
Undaunted, she continued in her usual passionate way. "Listen to me Nanci, we have to do spelling bees. We learned to sound out words and we also learned to see the words in our head. I just can't understand why they don't do that anymore."
Vowing never, ever, to ask her to spell a word for me again, I muttered, "I don't know Mom. I'll never ask her again. I swear I'll look it up. I swear.
I could feel her waiting for more, looking up at her, seeing her intensity, I sputtered, "We just don't do that, Mom. But, I can sound out words." (I had taught myself "phonics" by noting that certain letters in certain words seems to make certain sounds.) Please let this be over.
Sighing, she stayed for a few more seconds, then gave up and headed for the stairs to resume her mom-mission.
Never. I would never ask her again. Anyhow, I can never really understand her. Just yesterday I asked her how to spell the word necessary. Her response was a rapid N-E-C-E-double-S-A-R-Y. How does she get those letters out of her mouth that fast? And why can't I get them in my head at the same rate that she says them? And, for heaven's sake, why can't I get that double thing she does? What a mystery.
Oh well, I'll think about this tomorrow.
And she really did think about this again and again and again! It has become a passion of Nanci's to educate people about the imperative need for and the use of symbol imagery in the reading process!
Click the link below to learn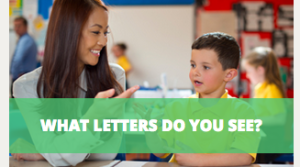 more about symbol imagery.