post
Summer Reading Fun for Everyone!
Jun 12, 2023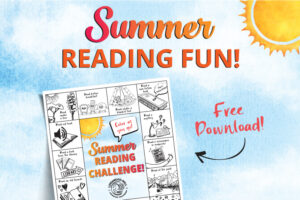 Have fun reading with us during summer break. Summer reading helps children keep their skills up and encourages reading to become a lifelong habit. Kids can read by themselves or with a grownup.
Everyone can join in! Ways to participate:
Just for Fun – Everyone!
Download your progress sheet (below).
There are 14 categories. When you complete a category, color it in on your progress sheet. You can complete 1 or all 14.
Instagram Photo Challenge
Five winners will win a $50 Amazon gift card.
Post a photo for one or more of the reading categories.
Examples: a photo of you reading in a park or a photo of your non-fiction book
Tag @lindamoodbellofficial #SummerReadingWithLB.
Every tagged post is an entry.
Complete all 14 and get 10 extra entries added to the raffle!
Deadline for posts: September 1, 2023
Current Lindamood-Bell Students
Earn prizes at the Learning Center.
Turn in your progress sheet by September 1, 2023.