post
[Article] Tips for Getting the Most Out of Your Child's Progress Report
Oct 14, 2016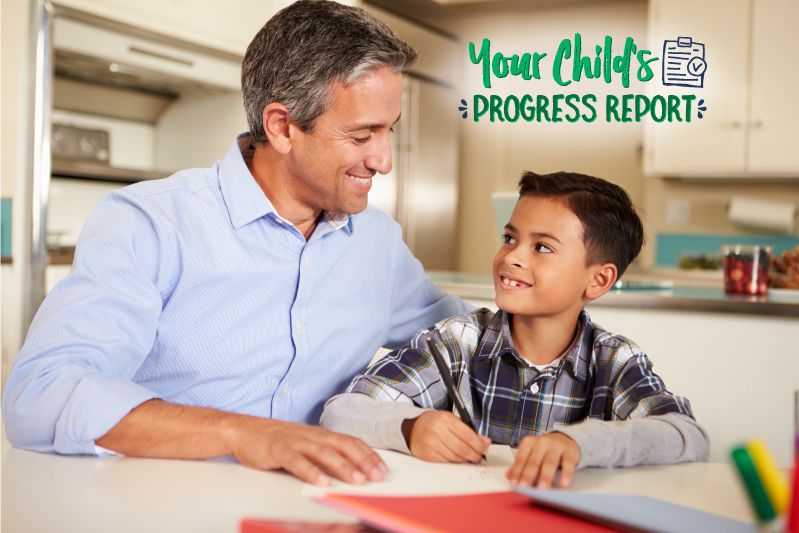 The end of the marking period is a time for parents to assess their child's progress—to make sure they're on track, improving in subjects, or to see if they need help. This is the time to note any areas of difficulty. It's important to look carefully at each area of your child's progress report—how are her math skills progressing? What about language arts—is decoding the material difficult for her or is she unable to correctly answer questions about what she's read? Is science giving her trouble? Do you see areas that could be stronger? Is it possible she's struggling due to an underlying weakness you're unaware of?
Meet With Your Child's Teacher
It's important for parents to have answers to these questions in order for your student to be successful in the classroom. Talk to your child's teacher to get feedback about her performance in the classroom. What kind of resources are available? What can you be doing at home to help?  Poor grades on your child's progress report are a red flag signalling that actions need to be taken now to get back on track.
Red Flags
First things first. What might be causing the difficulties in her studies? You need to determine what's causing the weakness in order for her to reach her potential.  If her progress report shows poor performance in the areas of language arts and spelling, she may be suffering from an underlying weakness in her language processing skills. A cause of difficulty in establishing sight words and contextual fluency is difficulty in visualizing letters in words. This is called weak symbol imagery—the ability to create mental imagery for sounds and letters within words. A significant number of students have difficulty with rapidly perceiving sounds in words and are slow to self-correct their reading errors. This causes weakness in:
Memorizing sight words
Sounding out words
Orthographic awareness
Phonemic awareness
Contextual reading fluency
Orthographic spelling
If her progress report shows poor performance in science, history/social studies, math, writing, and homework, she may have weak concept imagery—the ability to create an imagined or imaged gestalt (whole) from language. This weakness causes individuals to get only "parts" of information they read or hear, but not the whole. It's important to note, weak decoding skills can also affect her grades in subjects that require a lot of reading. Weak concept imagery causes weakness in:
Reading comprehension
Listening comprehension
Critical thinking and problem solving
Following directions
Memory
Oral language expression
Written language expression
These underlying sensory-cognitive functions must be intact in order for your child to achieve academic success. If not, there will be a breakdown in her reading and language comprehension skills, resulting in frustration, stress, and poor grades on her progress report.
Get Help Now
Don't wait! Get extra help and get her on track before the next progress report arrives. The first step is to see what may be affecting your child's performance in the classroom. At our learning centers, we identify strengths and weaknesses that may be affecting school performance in reading, comprehension, and math. Our instruction is based on an individual's learning needs. During the consultation, we will discuss an individualized learning plan to help improve her grades and make learning easier. We offer several options for instruction:
Intensive one-to-one instruction
Paired instruction
Online instruction
Enrichment Instruction
Homework matters
After School Instruction
Lindamood-Bell Academy
To find out more about what might be causing poor grades on your child's progress report, and to learn more about instruction options for your child, please contact one of our learning centers at 800.300.1818. We look forward to hearing from you.