post
Lindamood-Bell partners with school organizations across Canada to increase literacy and address learning loss.
Aug 21, 2023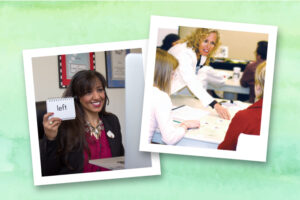 While based in the US, Lindamood-Bell has enjoyed decades of success partnering with schools throughout the Canadian provinces.  
Our approach supports current initiatives in Canada to address early literacy, dyslexia, First Nations' needs, special needs, and learning loss.   
We are an industry leader in reading and math interventions that target essential skills supported by research. Our instructional approach is based on the cognitive science of learning and structured literacy. It is often a critical missing piece for struggling readers and early reading development.  
Professional Development
Our levels of professional development prepare teachers to develop the following skills:
Phonemic awareness
Symbol Imagery for phonological and orthographic processing
Phonics
Fluency
Vocabulary
Concept Imagery for Language Comprehension and thinking
Conceptual and procedural understanding for math
We offer training online or in person.
Here's how to get started:
Schedule a free Zoom overview for your leadership team.
Review your literacy and math intervention needs.
 Receive customized PD options that meet your requirements.
Profiles of Success in Canada
Since the mid-2000s, it has been a privilege to work with more than one thousand educators throughout Canada to bring the cognitive science of learning to students. 
Our past partners include: 
New Brunswick Department of Education (NB)
Strait Regional Center for Education (NS)
Edmonton Regional Learning Consortium (AB)
Edmonton Catholic Schools Division (AB)
Pembina Hills School Division (AB)
Grand Prairie Public School Division (AB)
Eastern Shores School Board (QC)
Eaton Arrowsmith School (BC)
Eaton Arrowsmith School, Vancouver, B.C.
This school benefitted from integrating Lindamood-Bell's sensory-cognitive instruction into its curriculum. Watch this video to hear from a school administrator on how they implemented the programs.
Landmark East School, Wolfville, Nova Scotia
Landmark has had decades of experience with the programs: 
"Our staff have been using Lindamood-Bell programs for the past 40+ years, and we continue to see their benefits in the classroom. Teachers have been trained in Seeing Stars, Visualizing and Verbalizing, LiPS, and On Cloud Nine and use the programs regularly during their small group intensive support classes as well as to help inform teaching practices in English Language Arts and Math. The programs are easy to follow, provide a "grow-as-you-go" script and activities, and allow for easy documentation of growth of the students' skill sets. Teachers love the low-prep guides, and students benefit greatly from the routine and highly structured nature of the programming. Students seem more motivated and confident when using Lindamood-Bell programs and are able to see improvements and receive feedback quickly."
 Moira Taylor
Literacy Coordinator 
Five Strategies for An Effective Literacy Intervention Plan
With over 30 years of experience partnering with schools, we have developed best practices to increase literacy and math skills, especially for high-needs schools and struggling students. Download our recent white paper highlighting five strategies for implementing successful and sustainable interventions.  
We look forward to partnering with more schools throughout Canada to increase professional learning and student achievement.