post
Back to School Tips
Jul 28, 2015
"Next Year is Going to be Different!" 
Top 4 areas to tackle before school starts.
Like most families, yours may have been thankful for summer break—a reprieve from the school year's relentless schedule of project deadlines, events, and class obligations. By the end of the year, you may have even identified a few habits and patterns that were working against your family's success. Perhaps you decided,  "Next year is going to be different!"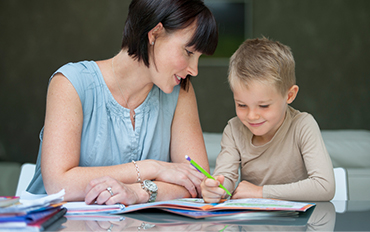 Hold a brief family meeting to kick start your effort. Work together to identify last year's "pain points." Your family's list might include items like:  "too much homework on Sunday nights", "always late for first period", or, "arguments about screen time." Notice that parents and children often agree on what's not working.  Recognizing we share the same goals can make a difference for keeping it positive.
Once you've chosen the areas to improve, make your plan for how you'll all get there. Let's say you are working on changing "always late for first period." To create your improvement plan, you'll identify what is slowing down your family (long showers? getting out of bed too late? too much time fussing about clothes? too groggy in the morning? completing homework in the morning?) To improve your family's habits, you'll likely be addressing one or more of the following areas: health, study skills, extra-curricular activities, and chores.
Enjoy this common-sense list for families to consider for a calmer, less chaotic household:
Healthy Habits
Ensure nourishing meals, perhaps by having your child help with a weekly menu.
Add physical activity to the week if extra curricular activities don't already suffice.
Plan for downtime activities which could include recreational reading, listening to music, communicating with friends, or watching a TV show.
The recommended screen time for your child's age group will help establish healthy limits. You and your child can research this data, calculate the appropriate amount of time for his/her age. Have him/her suggest a time of day it could fit in a daily schedule.
Study Skills
Establish a fresh backpack and binder organization plan.
Use a calendar system for remembering deadlines and scheduling homework.
Create a distraction-free homework zone.
Plan for support (e.g. who will be monitoring homework during the week?)
Extra-Curricular Activities
Identify interests and passions and make them a priority.
Plan for schedule and transportation needs.
Chores
Establish age-appropriate responsibilities.
Develop a daily and weekly chore schedule. Allowing your child to choose among a few tasks ahead of time can be effective.
Have fun matching up your target areas for change with the solutions that will work for your family.  Solutions might be simple, such as going to sleep earlier. Or, an issue may require a bigger change, like creating a functional, age-appropriate calendar system for homework and project planning. Tackle one issue at a time, together, and next year really can be different!