Thank you for your interest in Lindamood-Bell Learning Processes.  Our goal is to bring the magic of learning to all individuals.
Despite learning loss or learning challenges, our research shows with the right diagnosis and the right instruction all individuals can be taught to read and comprehend to their potential.
We offer individualized instruction, a private school, and professional development for educators. 
We want to make a difference in your life and would love to talk to you.
Please call us at 800‑300‑1818.
We believe in you, and you can believe in us. 
All my best,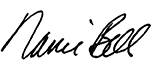 Nanci Bell
Co-founder
Lindamood-Bell Learning Processes